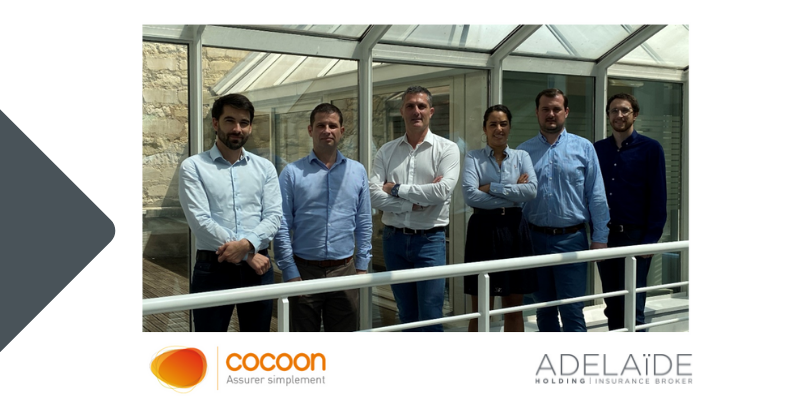 Cocoon (formerly Coverlife), the Adelaïde Group's insurtech company, a major player in the digital distribution of insurance products in France, is announcing a new ambition: to become the benchmark for individuals in terms of supplementary health and life insurance.
With continuous profitable growth since its creation in 2014 (+18% in 2020 with €14.4 million in turnover), Cocoon's new strategy is based on three main pillars:
– A new management team closely coordinated around Jean-Sébastien Nénon,
– A new, more efficient technical base,
– The development of new products.
This new ambition is embodied in a customer experience of the highest standards in the market:
– Offers tailored to the types of customers and their needs,
– The simplicity of a new personal account that allows customers to perform almost all management tasks,
– And the swiftness of a premium service for reimbursement of benefits thanks to its sister company, Génération.
These ongoing improvements will pave the way for the development of other services and insurance products in the near future.
Cocoon will also continue its collaborative synergies with the Adelaïde Group, allowing it to benefit from its strength and expertise.
A more experienced and technical team will be formed around the CEO.
Cocoon has acquired an experienced and more qualified team, which will provide its expertise to the strategic aspects as well as to the development of digital channels.
Cocoon is determined to become the benchmark for individual health insurance. The new management team's skills and experience in customer relations, marketing, data and digital will enable it to meet this challenge.
The new management team (whose biographies can be found at the end of the press release*) will consist of:
– Jean-Sébastien Nénon – CEO
– Raphael Gilmas – Marketing Director
– David Loizeau – Supply Director
– Fabien Le Bars – Customer Relations Manager
– Lamyaa Jari – Project Management Director
– Timothée Le Noan – Manager of Financial Performance and Data
"After a relatively long period of work and investment to restructure our marketing and technical fundamentals, I am delighted with the consistency of the new management team at Cocoon. We look forward to a new phase of momentum in our development. The result of this new expertise in Tech, Data and Digital is a more fluid navigation, and a much more efficient site that guarantees a better experience for our customers" – Jean-Sébastien Nénon, CEO of Cocoon
A new technical base:
Against a backdrop of continued growth, Cocoon has implemented new tools to make its offer more effective in acquisition.
Last July, following a collaboration with the Adelaïde Group's Digital Factory, Cocoon installed a new, more adapted IT system, innovative performance measurement tools and a customer space with the best UX standards.
Cocoon has also teamed up with Quantmetry, a firm specialising in Artificial Intelligence, to implement a machine learning tool that uses all of its data since July.
Having taken this "Tech & Data" step allows Cocoon to be more efficient in sourcing leads, to refine its prospect targets and to provide a more personalized response to its customers' expectations.
The arrival of new products:
With the arrival of two new insurance partners, Identités Mutuelle and Miltis, Cocoon has joined forces with their actuarial teams and Verlingue's technical support to offer new complementary health products that provide specific solutions for each of the main segments of the individual market: working people, self-employed people and seniors.
The distinctive feature of these products is that they provide progressive offers to accompany members throughout the changes in their life situations.
It should be noted that some of these offers began to be rolled out in mid-July, and all of them will be available at the end of September.
Press contacts
Hopscotch Décideurs
Marie Guerin – +33 (0)6 03 48 83 09 – mguerin@hopscotch.fr
Cyril Rizk – +33 (0)6 73 49 72 61 – crizk@hopscotchgroupe.com