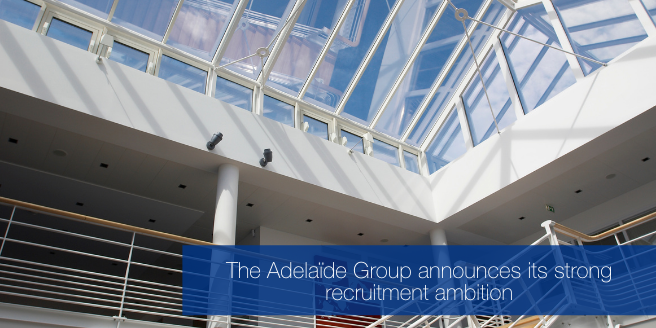 After two consecutive years of strong growth [+8% in 2020, 2021 figures will be unveiled on 20 April at the annual press conference], the Adelaïde Group is stepping up its growth ambitions in France as part of its IMPACT24 strategic plan, which includes a robust recruitment strategy.

USING TALENT TO BENEFIT AN EXPANDING GROUP

There are excellent career opportunities to be found in all its subsidiaries, ranging from bachelor to post-graduate level, in the fields of sales, insurance technology, management platforms and customer relations, actuaries, information systems and digital, and support functions (HR, accounting, etc.) in social protection, corporate risk, and specialised markets (real estate, regulated professions, financial institutions, etc.).
"The Adelaïde Group's ambition is to build a large, European-sized, family-run and independent insurance brokerage group where talent thrives and works tirelessly to satisfy existing customers and attract new ones," explains Bernard de Laportalière, Human Resources Director, Adelaïde Group.
STRONG VALUES AND TAILOR-MADE INDUCTION FOR EMPLOYEES

Each company in the Adelaïde Group offers its employees tailor-made support with a complete and personalised induction programme for each new employee (induction programme, individualised training, etc.), training adapted to the business lines and their technical features to ensure that knowledge is constantly expanded in order to:
• Help the Group's employees to grow and develop their skills;
• Develop their leadership and their sense of initiative;
• Give them career prospects.
"We support the women and men of the Adelaïde Group in their induction, training and development of their skills. We must do everything possible to enable them to develop professionally, while fostering diversity and difference." Bernard de Laportalière
ADELAÏDE STEPS UP ITS PROGRAMME FOR YOUNG PEOPLE

The Adelaïde Group is also keen to invest in the future, which is why a work-study recruitment campaign has been launched. The aim being to find the brightest young people and to recruit them on an open-ended contract at the end of their training.
From September 2022, 47 work-study positions will be available — 30 at Verlingue, 15 at Génération and 2 at the insurtech company Cocoon — in the fields of commerce, internal control, management, training and communication.

Two major partnerships have also been set up:
• For Génération: the launch of a "work-study" class in partnership with IFPASS, starting in September 2022. This class will take remote courses, then will be able to carry out practical work within Génération, and after two years will be able to obtain a BTS in insurance (based on the management of health and life insurance costs).
This intake will be made up of 20 apprentices, 10 of whom will work for Génération. The aim is to recruit them on permanent contracts following their apprenticeship.
• For Verlingue: the company will be a partner for the 2nd year of the Microsoft Brest+ AI school by @Simplon.co and ISEN Yncréa Ouest, dedicated to artificial intelligence, which opened its doors in Brest in October 2020. The unique and alternative school, aimed at people who are not in employment, is also supported by the Brittany Region and Pôle emploi.
This partnership is fully in line with the strong ambitions of Verlingue, which has chosen to step up its digital transformation with this ambitious investment plan in technological innovation aimed at increasing its digital agility and creating new services for its customers.
The programme, which is free of charge, to become an AI data developer is based on an intensive training period, followed by a work-study contract period in partner companies, of which Verlingue is one.
"Our goal is to offer each young person support throughout their studies thanks to a real immersion in the world of work, with the help of a tutor in our teams." Bernard de Laportalière
ADELAÏDE, A COMMITTED PLAYER ROOTED IN THE LOCAL AREA

In addition to recruitment and training, Génération, a subsidiary of the Adelaïde group, has joined the Réseau des Clubs Régionaux d'Entreprises Partenaires de l'Insertion (CREPI), whose aim is to help anyone find a job through companies involved in their local area.
"With a long-standing presence in the local area, Génération has decided to get involved in this approach and, in so doing, is committed to helping people discover the company, sponsoring a person looking for a job, and encouraging local recruitment," explains Sabine Mayart, Human Resources Director, Génération.

A FEW KEY FIGURES…

• 180 positions within at the business insurance broker Verlingue
• 190 positions for Génération, the insurance broker specialised in managing company health and life-insurance schemes
• 7 positions for Cocoon, the Adelaïde Group's, insurtech company, a major player in the digital distribution of insurance products in France.
• 47 positions through work-study schemes to help young people enter the brokerage and business-risk management sector
• Positions open to beginners and experienced candidates (with qualifications ranging from baccalaureate to a Master's degree) in sales, service and management platforms, insurance techniques and support functions
• Positions throughout the country and in all the Group's subsidiaries
• Stronger partnerships with schools and vocational training courses, to develop work-study programmes within the group and its subsidiaries, and to train the employees of tomorrow.

Press contacts:
Adelaïde Group – Léna Youinou – communication@adelaidegroup.fr