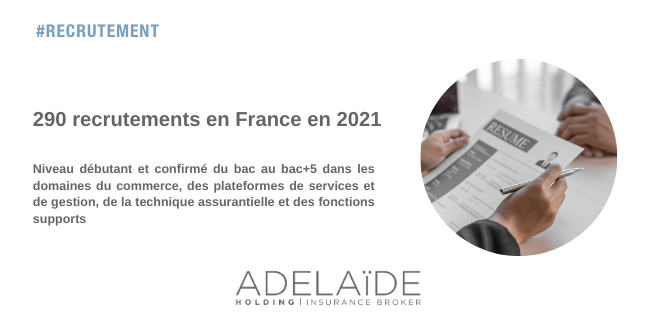 – 190 positions to be filled at the business insurance broker Verlingue
– 100 positions to be filled at Génération, the insurance broker specialised in managing company health and life-insurance schemes
– 40 additional positions through work-study schemes to help young people enter the brokerage and business-risk management sector
– Positions open to beginners and experienced candidates (with qualifications ranging from baccalaureate to a Master's degree) in sales, service and management platforms, insurance techniques and support functions
– Organisation of the first 100% digital recruitment evening
New talent at the service of an expanding Group
After a solid year in 2020, with an 8% increase in turnover, the Adelaïde Group has reasserted its objective of achieving strong growth in France as part of its IMPACT24 strategic plan (see press release of 17 march 2021).
"To achieve the Group's ambitious objectives linked to conquering new areas and developing innovations, Adelaïde has launched a vast recruitment programme, complementing the proactive policy of training and internal mobility", says Bernard de Laportalière, Human Resources Director of the Adelaïde Group.
There are some great career opportunities, open to candidates with qualifications ranging from baccalaureate (A-level) to Master's degrees. A variety of positions are available in sales, insurance techniques, management and customer relations platforms, actuarial services, information systems and digital technology and administrative support functions (HR, accounting, etc.), as well as in social protection, corporate risk and speciality markets (real estate, regulated professions, financial institutions, etc.).
The AdelaïdeGroup's ambition is to build a large, European-sized, family-run and independent insurance brokerage group where talent thrives and works tirelessly to satisfy existing customers and attract new ones.
"We believe in the strength of independence. Being a management and family-owned company allows us to work freely and in the best interest of our customers, always striving to be ambitious and demanding whilst keeping to our schedule. Our values are based on independence, entrepreneurship, a commitment to customer service, respect and personal development," explains Bernard de Laportalière.
Regional recruitment to strengthen its local presence
With its strong local presence (17 offices throughout France) that enables the company to respond quickly to its customers' needs and help them cover and manage of their risks effectively, the Adelaïde Group provides great career opportunities for both beginners and experienced candidates in dynamic and highly attractive geographical areas, notably in view of employees' new expectations.
Strong values and tailored induction for new employees
Each company in the Adelaïde Group gives its new recruits tailor-made support through a comprehensive, personalised induction programme, and provides vocational training adapted to the technical aspects of each business area to enable employees to continuously develop their skills.
"We aim to be a high-performance group that cares about people and gives everyone the means to fulfil their potential and develop professionally. We want our employees to be enthusiastic, enjoy themselves and find their work rewarding. We encourage empathy, simplicity and initiative. We appreciate people who build frank relations and say what they think," says Bernard de Laportalière.
Adelaïde expands its youth programme
The Group also has more than 40 positions available within the framework of work-study schemes. These will start in September 2021 in the fields of sales, internal control, management, training and communication.
"The aim is to provide each young trainee with support throughout their studies and to accelerate and improve the effectiveness of their training by truly immersing them in the professional world. Each youngster has a designated tutor inside our teams." Bernard de Laportalière.
Thursday 6 May, a 100% digital evening to learn about Verlingue's business lines
Verlingue is organising an evening entitled "Discover Verlingue 2024 – Join us!"
The evening will take place in digital format and allow candidates to learn more about the company, its strategy and business lines thanks to the testimonials from operational staff who work in the fields of sales, insurance techniques, service and management platforms.
Candidates have until 3 May to register to take part in the evening.
Press contact: Léna Youinou – communication@adelaidegroup.fr – +33 (0)6 43 44 82 91