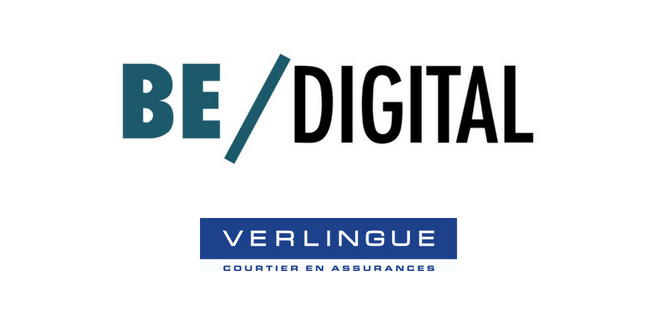 Verlingue is speeding up its digital transformation with an ambitious plan to invest in technological innovation aimed at enhancing its digital capabilities and creating new services for its customers. The insurance broker is teaming up with the onepoint group, one of the key players in company digital transformation.
Following the successful launch of the Assur@ccess platform, a 100% digital solution for credit protection insurance dedicated to banking networks, and the Immo@ccess platform, dedicated to real estate professionals, Verlingue has decided to go even further and create its own Digital Factory, aimed at the large-scale and rapid development of new and innovative service offers for the companies it advises in France and abroad.
Verlingue's Digital Factory will be based in Nantes, which is part of the business ecosystem which saw France's strongest growth in digital employment in 2017. It will bring together multidisciplinary teams who will offer their digital expertise to Verlingue and the other entities within the Adélaïde group. The onepoint and Verlingue teams will work in an agile way, with a co-construction approach involving customers, service providers and start-ups.
All of Verlingue's business lines dealing with company risks and supplementary social protection will benefit from this new drive. Several strategic projects have already been introduced, such as the redesign of the Easy@ccess customer platform which revolutionised Verlingue's service offer 10 years ago.
Eric Maumy, CEO of Verlingue: « We began our digital transformation in 2005, with the creation of platforms which revolutionised our service model. As with the new players who are shaking up the insurance market, we have chosen to fast forward the digitalisation of the services we deliver to companies, further improve customer experience and improve our efficiency and competitiveness.
By teaming up with an outstanding partner such as onepoint, we have added to our expertise and created an innovation space that will benefit all our customers ».
David Layani, CEO and Founder of Onepoint: « In a fast-moving world, digital transformation calls for a complete reinvention of the way businesses are organised and operate so they can offer the best service to their customers, remain innovative and be more dynamic. Only a cross-disciplinary approach, bringing together all the business lines and with its focus on human support, can trigger a creative transformation offering added value to both the company and its customers. Onepoint is proud to have been chosen by a family group who share its values to turn digital innovation into a real lever for growth and improvement of services. Verlingue and onepoint will now work hand in hand to build an insurance brokerage that is the most digitalised in the market and the closest to its customers ».