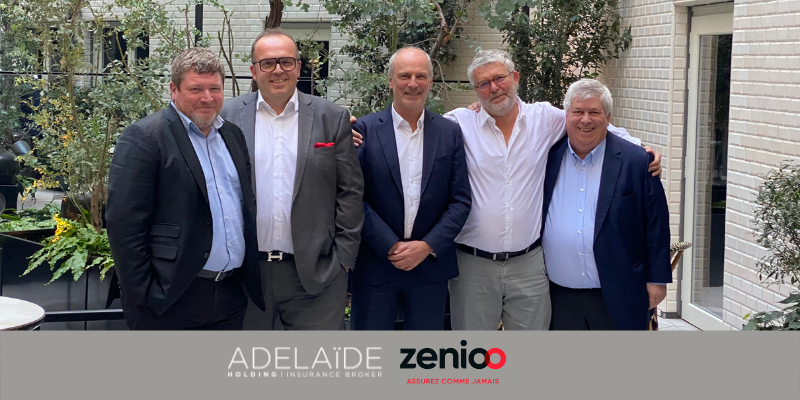 – The Adelaïde Group has become Zenioo's leading industrial shareholder
– Zenioo's founders will retain the majority of the capital
– Zenioo is looking to step up its growth by teaming up with a leading brokerage firm.
– Zenioo will thus rely on Génération, the Adelaïde Group's insurance broker specialised in health expenses and life insurance
In order to step up the growth of its operations in the health, life insurance and loan insurance market, while guaranteeing its independence, the wholesale broker Zenioo is making a 35% stake in its capital available to the Adelaïde Group, which specialises in insurance consulting, intermediation, distribution and management.
"This industrial, financial and people-focused partnership, which is part of a shared vision of excellence in service and customer relations, will enable us to step up our growth while strengthening the quality of our products and services," says Emmanuel Morandini and Emmanuel Legras, Zenioo's founding shareholders.
This move marks an important step for the Adelaïde Group, which is making official its entry into the individual insurance market with the ambition of creating a fourth business line in addition to its three successful subsidiaries Verlingue, Génération and Cocoon. This is also a step forward for Zenioo, which intends to pursue its expansion as a wholesale broker specialising in life insurance for local brokers.
The arrival of the Adelaïde Group as a major industrial shareholder will mean that Zenioo will be able to offer its network the services provided by Génération, a subsidiary of the Adelaïde Group, dedicated to the management of health and life insurance agreements.
"With each decision, we look for what is best for our partner brokers in order to provide them with the maximum added value over the long term", adds Jean-Hubert Bannwarth, founding shareholder of Zenioo.
" This partnership allows us to pursue our objective of bringing an innovative, digitalized and responsible approach to the insurance brokerage market that respects the interests of all stakeholders in the long term: risk holders, brokers and end customers ", adds Gilles Bénéplanc, CEO of the Adelaïde Group.
In keeping with its tradition, and in parallel with sustained organic growth (+7% in 2020 vs. 2019), the Adelaïde Group is pursuing its external growth policy through strategic acquisitions.
 "We believe in supporting initiatives and entrepreneurs in our sector. This new investment consolidates the Adelaïde Group's ambition to build a large, family-owned and independent insurance brokerage group with a European dimension," explains Jacques Verlingue, Chairman of the Adelaïde Group.