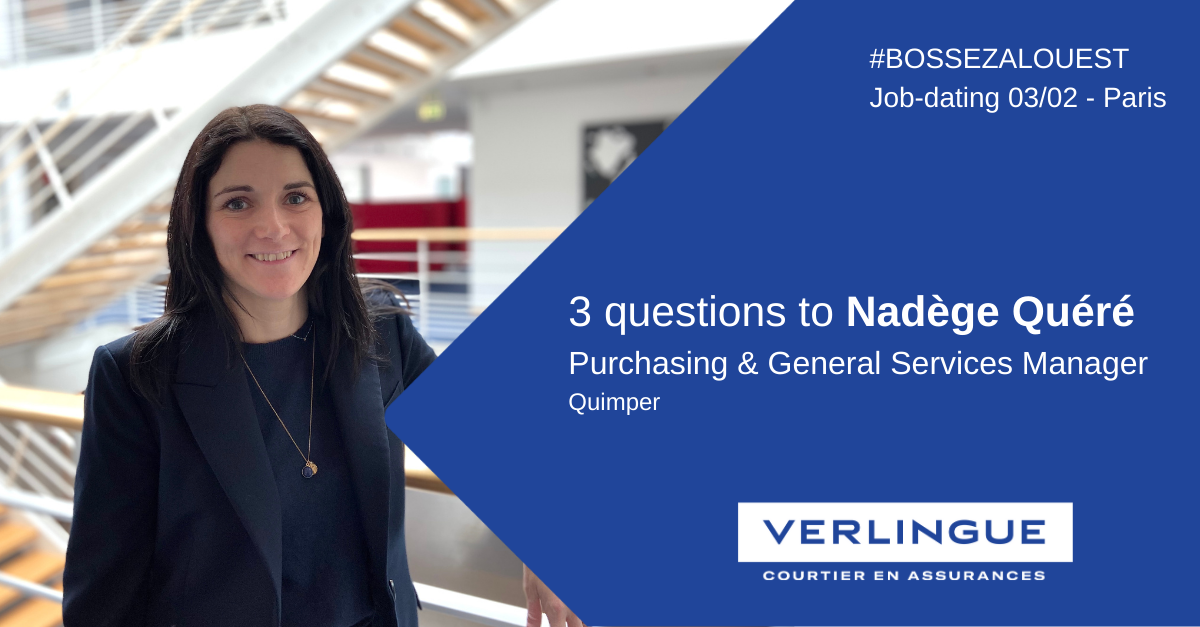 Hundreds of job vacancies in Brittany to work in service-sector, industrial or digital companies… and an invitation to change your way of life! The main companies based in Finistère are joining forces to hire in Paris with the Club TGV Bretagne.
A job dating session was organised in Paris on Monday, 3 February 2020 with the recruitment teams of the Adelaïde Group (Verlingue, Génération, Coverlife).
In this context, Nadège Quéré, who joined Verlingue in 2018 as Procurement & General Services Manager in Quimper after having working for over 10 years in Paris, answered our questions.
1. Why did you apply for this job at Verlingue?
"I joined Verlingue and Adelaïde Group a year and a half ago as Procurement & General Services Manager. Previously, I had worked for 10 years in a pharmaceutical firm in Paris.
During the first few months, my mission consisting of defining procurement governance and introducing an expenditure commitment tool at Adelaïde (Verlingue, Génération et Coverlife).
In an expanding group with strong ambitions, there was a need to give additional thought to the procurement function in order to further optimise expenditure and attract the best service providers in such diverse fields as IT, intellectual services, hiring, event management and so on.
For the past six months, I have also been responsible for leading the General Services team, which manages various functions like reception, mailroom and employee travel."
2. You left Paris to join Verlingue and the Adelaïde Group. What were the reasons behind this choice?
"I come from Brittany, and my family and I wanted to return to the region, in search of a better quality of life with the same level of professional fulfilment as in Paris.
Verlingue is a major firm in the region, structured for my profession and with strong development ambitions in France and abroad, a factor which makes the missions all the more exciting!
The scope of the position, the opportunities offered, especially in terms of career development and the possibility of leveraging my skills and past experience all influenced my decision."
3. You've been with Verlingue for a year and a half now. How do you feel about your change in lifestyle?
"From a professional perspective, the position and its development have met my expectations, in terms of both the overall challenge and the missions and career development possibilities. Working in the regions offers many opportunities as stimulating as in Paris, in ambitious companies that give themselves the means to achieve their goals.
Apart from that, my commute is much shorter and above all, I live right next to the ocean. What is more, the Verlingue / Adelaïde headquarters office offers a rather extraordinary working environment."