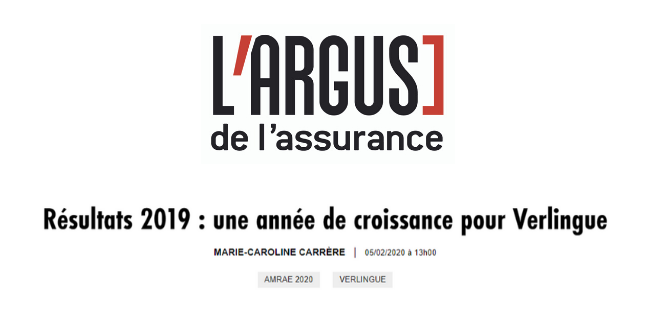 After an excellent year in 2018, the broker Verlingue maintained this momentum in 2019 with double-digit growth.
All systems are go for Verlingue, the eighth largest broker on the French market according to the latest league-tables in the Argus de l'Assurance.
After seeing earnings grow 12% in 2018 (€166m) and 12% in 2017, the brokerage group specialising in business risk had another fine year in 2019 with turnover of €187m, up 13%  compared with the previous accounting year. This turnover is equally divided between business risk and supplementary social protection. In addition, Verlingue achieves more than two-thirds of its turnover in regions equally divided between ISEs and large companies. "For 2019, we are pleased to announce a very good business year and sustained growth with a 13% increase in turnover despite a still tense market. We are continuing to invest in talent, digital transformation and the acquisition of brokers in France and Europe. Our goal is to provide our clients with more expertise and to reinvent our service models," said Jacques Verlingue, CEO of Verlingue.
Verlingue reports a volume of negotiated premiums of €2bn with its clients or €100 million more than in 2018 (€1.9bn) and a high retention rate, as more than 97% of its clients "have reaffirmed their confidence or broadened their partnership with Verlingue."
This new increase is the result of solid external growth with the acquisitions in June and September 2019, respectively, of MEEX and Eyssautier. These transactions are fully consistent with the strategic plan and illustrate Verlingue's ambitions both in France and abroad. The broker is thus expanding on the maritime and transport risk market with Eyssautier and in Switzerland with the acquisition of MEEX. 35% of Verlingue's revenue is now generated abroad (5% three years ago). The brokerage group does not intend to stop there and aims to achieve 50% of its turnover abroad. Verlingue's new CEO, Gilles Bénéplanc, who joined the company in late January, confirmed these ambitions: "the excellent performance in 2019 confirms our road map and our goals linked to the transformation plan for the year 2022 for the company and the Group. It is the result of a joint effort by all teams and we are going to build on this positive momentum to further accelerate our development and the solutions we provide to the companies we assist in France and abroad.".
In addition to international markets, the Breton broker is continuing to expand in France, in particular by hiring experts for ISEs and large companies with the aim of boosting efforts targeting the low-end segment and P&C. Verlingue also continues to grow in specialties thanks to its sectoral expertise in real estate, borrowing, healthcare establishments and life sciences, which account for a significant share of its revenue.  "In an unstable and complex regulatory environment, Verlingue continues to grow on the social protection and business risk markets. We have also decided to give ourselves the means to achieve sustained P&C growth, even though this market has been marking time nationwide. Verlingue has beefed up its teams and resources in terms of engineering and consulting, actuarial services, fleet management, and property and liability…", confirmed Jean-Marc Esvant, Verlingue Deputy CEO.
Marie-Caroline Carrère – L'Argus de l'Assurance