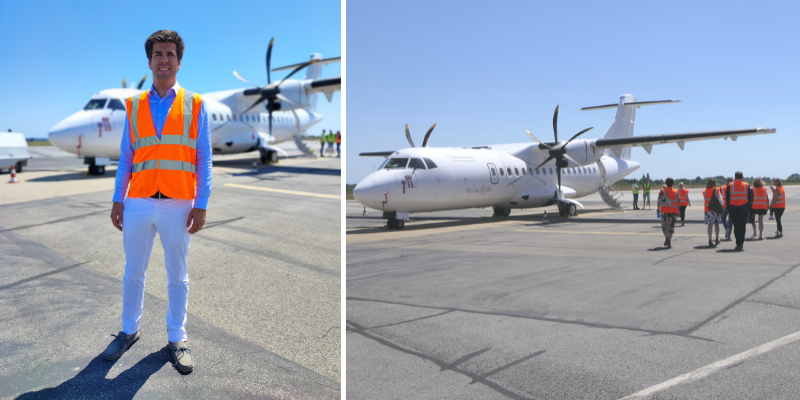 Benjamin Verlingue, Managing Director of the Adelaide Group, visited the site of the French airline Chalair Aviation on Wednesday 15 June in Quimper.
Chalair Aviation is a French airline that was founded in 1986. Today, it is based in Lower Normandy, at Caen-Carpiquet airport, but also at Limoges-Bellegarde (international airport), Bordeaux and finally Quimper-Bretagne.
Orchestrated by the CCIMBO on the airport floor, the communication exercise aims first of all to restore the confidence of business leaders and their employees in the reliability of the two daily round trips operated by the company.
Alongside Jean-François Garrec, President of the Quimper CCIMBO Delegation, Alain Battisti, President of Chalair Aviation, and Karine Languenou, Operations Director of Quimper Bretagne Airport, as well as managers, directors and executives from Finistère, Benjamin Verlingue was invited to discover the company and the Quimper/Orly route, through a presentation led by its President.
At the end of the presentation, the guests present were able to discover and enter the plane before meeting up for a Business Lunch.
"Our head office is here but the company is growing, in France and in Europe. Being in Quimper should not isolate us; it is important that the means of transport bring us closer to Paris and other economic areas," explained Benjamin Verlingue.